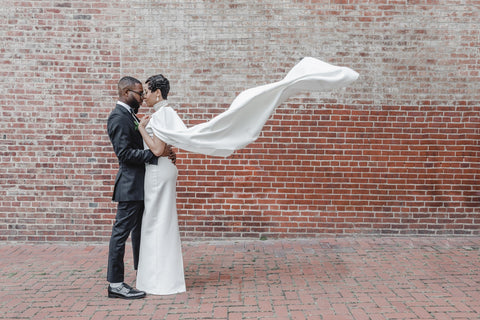 Capes and Capelets: The Latest Bridal Fashion Trend
Source: Aaron Ricketts
There's a new trend taking over bridal fashion at the moment: capes. Maybe it's because of our decades-long superhero craze. Maybe it's because of celebs like Solange, who rocked a caped look at her 2017 nuptials. But whatever the reason, it's clear that capes and capelets are the must-wear items of the moment — and we LOVE THEM!
A cape or capelet can add so much glamor and drama to your bridal look. It can even provide extra coverage if you want a more modest look at certain moments during your big day! Here are a few of our favorite ways to wear a cape or capelet for your wedding:
Add Sparkle to a Minimalist Look
Minimalist gowns are all the rage these days (the Meghan Markle effect is still setting trends two years on). Many brides are opting for a look that's clean, classic, and timeless — but that doesn't mean they can't enjoy a little extra glitter!
If you want to give your minimalist gown a little extra oomph, consider dressing it up with a beaded capelet. Something simple, yet sparkling (like this  art deco-inspired beauty) will add some old-school glamor to your classic look. Best of all, you can save your capelet for the reception and REALLY make a grand entrance!
Up the Drama Factor
There is nothing more regal, elegant, and show-stopping than a gown with a full-length cape. When you wear a cape, you can't help but feel a little extra special — like a queen or a superhero (whichever tickles your fancy).
Of course, if you want to wear a cape on your wedding day, you'll need one that's especially bridal. For example,  this stunning cape uses long tulle and ivory embroidery to add an extra touch of magic to your bridal look. The tulle won't distract from your gown, but the subtle embroidery and flowing movement of the cape will make you look (and feel) like a bonafide fairy princess.
Get Glittery 
We've already talked about the ways a beaded capelet can add a little sparkle to your bridal look… but what if "a little sparkle" isn't quite enough? Don't worry; you can really amp up your look with a  beaded capelet that glitters from shoulder to shoulder!
A capelet that's dripping with sparkling jewels is a great way to pile on the drama for your bridal look. In fact, this type of capelet can practically replace your traditional bridal jewelry! This piece will give you a bold, glamorous look that will guarantee all eyes stay on you all evening.
A beaded capelet or bridal cape can transform your wedding gown from simple and sweet to absolutely stunning. And best of all, these trendy accessories make great rental pieces! Renting a cape or capelet will help you save a little money while also making you look like a million bucks!
If you want to learn more about renting a beaded capelet for your big day,  click here to get in touch with our team. We can't wait to give you the accessories you need to truly complete your bridal look.