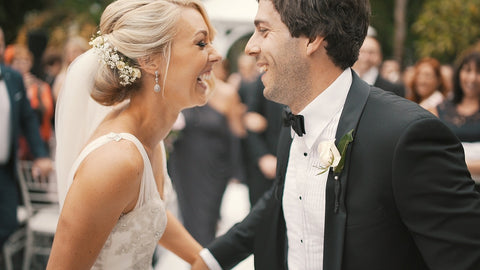 Different Ways to Style Your Hair for Your Wedding
When it comes to creating the perfect bridal look, finding your wedding hairstyle can be just as important as finding your gown. Your 'do should suit your personal style, as well as complement the other parts of your ensemble, such as special details in your dress.
If you're not sure how to style your hair for the big day, don't worry: we're here to help! Here are a few of our favorite wedding hairstyles to help you say "I do" in style.
Elegant Updos
Many of today's wedding dresses feature exquisite detailing along the back, from delicate lace appliques to long rows of buttons to simply having no back at all! If you're wearing a dress with one of these elements, the best way to show it off is with a classic updo.
Whether you opt for a sculpted French twist or a loose low bun, these wedding hairstyles will get your tresses off your back so everyone can see that stunning gown. These styles also lend themselves to easy accessorizing; finding a place to fasten your veil or dress up with a jeweled hair comb is easy when you've got a lot of hair gathered in one place.
Bohemian Waves
The bohemian look is a timeless style that's popular with brides everywhere — and it's not hard to see why! This wedding hairstyle is easy and breezy (and, of course, beautiful), with long, loose waves that simply fall around your face. Pair it with a side chic hair comb for that ultra bohemian goddess bridal look.
If you're interested in a boho bridal look, it's important to make sure you dress for the occasion. The beach wave style is best suited to simple, understated dresses (no princess ball gowns here). Consider something with lots of lace and a deep v-neck, ideally in a sheath or a-line style.
Side Swept Braids
Another wedding hairstyle that keeps your locks out of your face all evening is the side braid. This style is both practical and romantic, as it pulls your hair back while also making you look like a fairy-tale queen.
Side-swept braids are also an excellent choice for the bride that wants to make her wedding hairstyle a work of art. There are so many ways to do this 'do! You can have a classic and simple braid, dress it up with a herringbone or French style, or mix things up with several different braids at once! And, of course, don't forget to use a few cutesy hair pins to hold the look together.
Ballerina Buns
Sometimes, a bride just wants a wedding hairstyle that's simple and sweet. If that's the look that strikes your fancy, the ballerina bun is perfect for you! All you have to do to master this look is… well, put your hair in a bun.
This slicked-back and chic look is great for brides wearing classic silhouettes such as tea-length dresses (extra points if it's a fit and flare style) or sheath gowns. And if you feel that your bun needs a little extra something, you can always add headbands, combs, or a beaded veil to amp up the glamour!
No two brides are exactly alike, and that means that no two brides will want the same wedding hairstyle. But the best way to find out which look is for you is to try them out! Don't be afraid to try a few different looks with your hairstylist until you find the perfect one.