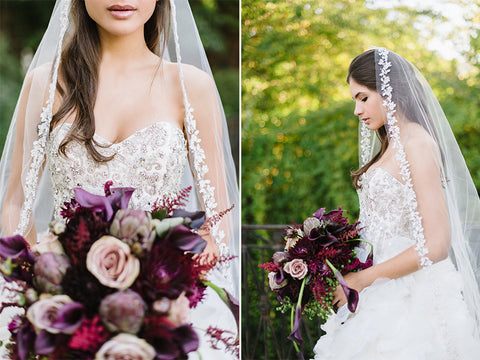 Dressing For "I Do": Your Guide to Different Veil Lengths and Styles
Source: Natalie Franke Photography
Every bride wants to look absolutely beautiful on her wedding day. You'll spend hours, even days, searching for the perfect dress, the perfect hairstyle, the perfect makeup look. But when it comes to choosing your veil, you may feel a little clueless. Which style is right for you?
Your wedding veil is the final piece of the puzzle — that extra something that takes your wedding look to the next level. It's very important to find one that suits your dress, vibes with your personal style, and turns your walk down the aisle into a major fashion moment. And if you're still not sure where to start, don't worry; we've got your back.
Short and Sweet
Veils come in a wide variety of different lengths and styles, and each one adds its own unique flair to the overall bridal look. If you're planning to wear something simpler for your ceremony, consider a shorter veil to match. Birdcage veils, which are usually made of netting and extend no lower than the chin, are an excellent choice for an outdoor garden wedding or a vintage-loving bride.
You can vary the length of your veil based on how much coverage you want (or how much of your dress you want to show off). Yep, even the "short veil" can vary in length, settling at your shoulder, the top of your dress or your elbow. However, one of the most popular options is the fingertip veil, which — as the name suggests — extends down to the bride's fingertips (about 42"). This veil offers a romantic, traditional look, while the long, sheer fabric allows for a clear look at the back of the dress.
Long and Lovely
Maybe simple isn't your thing. This is your day, and you're here for the drama. There are plenty of veil options for you! For example, you might want to try a waltz veil (also called a ballet veil), which extends about 60", hitting the bride at mid-calf. This wedding veil offers an ethereal, flowing look, but won't get in the way while you're out on the dance floor — best of both worlds!

Of course, if you want to make a truly grand entrance, nothing beats a cathedral veil. This massive masterpiece usually extends to 108" (that's 9 FEET, people!) and adds some serious drama and elegance to your look. In one of these beauties, your walk down the aisle is sure to be fit for a queen.  


Don't Forget the Details
Once you find the right veil length, you'll have to find one with the right details. Some veils feature lace details, crystals embedded in the fabric, or beading. Each of these elements will add something different to your look; for example, a cathedral veil with beading along the trim (starting from about fingertip length) can add detail to the back of your dress, adding a touch of elegance and romance to your walk down the aisle. This look is a beautiful way to "dress up" a gown that has a simple and understated back.
It's important to find something that compliments your gown without pulling attention from it, so don't be afraid to try many different styles. The more options you explore, the more likely you are to find that perfect fit for your special day!