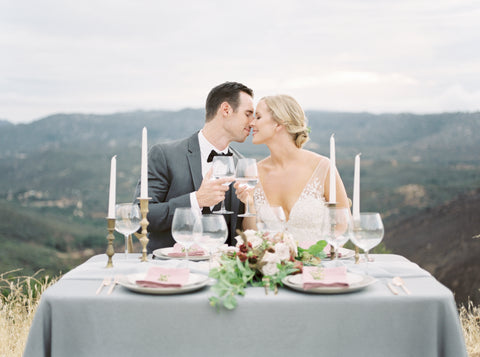 When to Rent vs. When to Buy
Source: Savan Photography
Your wedding is an amazing, beautiful, once-in-a-lifetime experience. So once-in-a-lifetime, in fact, that many couples choose to rent many of their wedding essentials. Most folks have heard of renting tablecloths and decor for their big day, and nearly every man had rented a tux before, but did you know that you can rent the bride's outfit, too?
Budget-conscious brides have been renting veils, headpieces, and even their wedding gowns for some time now, but is renting the right choice for everyone? Here are a few helpful hints to help you decide whether to rent or buy your bridal fashion for your big day.
Source: Jenna Routh Photography
The Dress
Stand in a bridal shop long enough, and you'll hear someone say, "Why spend so much money on something you're only going to wear once?" This is the biggest argument for renting your wedding dress, and we have to admit it's pretty convincing. Renting your dress significantly reduces the price, which means you can save a few bucks — or even splurge on a fancier rental!  
On the other hand, many women have many fond memories connected to their wedding gown. Owning your dress means you can pull it out of the closet whenever you want, reliving all those beautiful memories every time you look at it. If you're particularly sentimental (and if you really love your dress), buying may be the right move for you.
Source: Audra Wrisley Photography
The Veil
If the wedding dress gets flak for being "something you only wear once," the wedding veil gets it much worse. After all, most brides remove their veils before the reception even begins! Once again, renting can be a great way for couples to save money on their special day, and it's also a smart move for brides with expensive tastes, as they can get a gorgeous, high-end veil at a lower cost and return it when they're done — no muss, no fuss, no stress!
However, some brides with expensive tastes also have very particular tastes (you know who you are). While wedding veil rentals do come in a variety of lengths and styles, some brides are looking for something specially-made just for them. If you have a very specific vision for how your veil should look, consider buying a custom-made veil. This will ensure you get the one-of-a-kind veil of your dreams!
Source: Ashley Nizolek Photography
The Accessories
Let's say you've found the perfect dress, but it needs a belt or a sash to really complete the look. Maybe you've decided to go without a veil, but you want a headpiece like a tiara or a flower crown. Renting accessories is a simple, low-cost way to take your bridal gown from "pretty" to "breathtaking."
When you rent your accessories, you ensure that you have something gorgeous to wear on your wedding day… but not after. In some cases, this is totally fine (for example, a tiara you don't think you'd wear again). But if you find a piece of jewelry or belt that you think you could re-purpose after the big day, you might want to consider buying it! This can be a fun way to incorporate a little piece of your wedding into your everyday fashion.
When it comes to your wedding dress, veil, and accessories, the most important thing is that you find a look you love. If your gown makes you feel happy, confident, and beautiful, it doesn't matter whether it's bought or rented.